How long is the shelf life of your nut butter products?
我們的堅果醬完封下的保存期限為從製造日起算六個月。
Our nut butters have a shelf life of 6 months from production date.
How long will your nut butter products stay good after opened and how should I store them?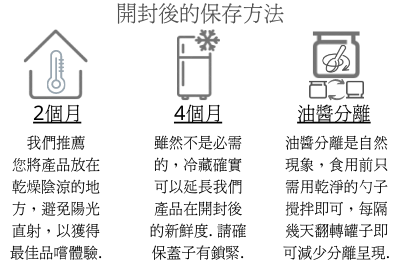 Why is there a layer of oil on top of my nut butter and what should I do with it?
首先,千萬不要把這油倒掉。出現油醬分離是正常自然現象和代表我們的堅果醬不含氫化油和其他穩定劑。油層來自堅果本身,對人體非常有益,更是天然保護膜,它能隔絕空氣起到保存的作用,因此我們的堅果醬可以在不冷藏下儲存。您只要在吃之前用乾淨的勺子或筷子簡單地攪拌把油醬混合回來就可以。每隔幾天將罐子倒過來放可以減少油醬分離的出現。
First of all, DO NOT pour the oil away. Oil separation occurs naturally and it means our nut butters are free from hydrogenated oils and other stabilizer. This oil came from the nuts, which also acts as a preserving agent by blocking away the air so our nut butters can be stored without refrigeration. All you have to do is simply stir the nut butter to mix the oil back in with a clean dry spoon or chopstick before serving. Flip the jar upside down every few days and vise versa can minimize the separation.

為什麼你的堅果醬能嚐到甜味, 不是說沒有加糖嗎?

Why does your nut butter taste sweet when you claimed no sugar added?
所有堅果本身都含有天然糖分,這就是為什麼即使我們不加任何糖您也能嚐到甜味的原因。例如我們的原味杏仁果醬每份含有 0.4 克糖,而這些都是來自杏仁果果本身的天然糖。

All nuts contain natural sugar in them and that's the reason why you can taste a sweetness even we did not add any sugar in it. For example, our almond butter has 0.4g of sugar per serving, and are naturally from the nuts.
How do I know your products are safe to eat?
我們的產品經由 SGS 實驗室定期檢測,以確保它們符合衛生福利部食品藥物管理署制定的標準。
Our products are examined by SGS laboratory periodically to ensure they meet the standards set by TFDA.
I would like to order ceremony favors for my event, do you take batch order?
We welcome batch order for both private and company events. Please send your inquires to junglegemsjun@gmail.com or
, Thank you!
Do you accept order from overseas?
我們目前支援來自香港,澳門,馬來西亞及新加坡的訂單。請參閱
港澳及诲外配送教學
頁面了解更多相關信息。